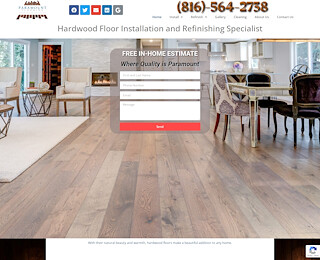 Professionally installed, genuine hardwood flooring is a large financial investment for any homeowner who wants to create a feeling of unique style and charm, which is why it's crucial to keep them looking their best and extending their usefulness. If hardwood floors are not properly maintained, many times the entire flooring will need to be replaced causing a significant amount of wasted time and money. If you need our professional experience to refinish hardwood floors in Kansas City, MO, Paramount Flooring offers the most affordable and convenient way to restore your floors back to their natural beauty and strength.
For over the last fifteen years, the professional flooring experts at Paramount Flooring have developed new and innovative methods and approaches to refinish hardwood floors in Kansas City, and throughout the entire metropolitan region. We employ a great staff of licensed, bonded, and insured flooring technicians who possess the know-how and the experience that it takes to create beautifully refinished hardwood floors. Your home will come back to life when your floors offer the appeal and allure that only beautifully refinished hardwood floors can create.
Benefits of Hiring a Professional 
Instead of attempting to refinish your hardwood flooring in Kansas City on your own, there are several reasons why you should consider allowing Paramount Flooring to refinish your hardwood floors instead.
Unless this is your area of expertise, there is a good chance that you may not have all of the necessary tools and resources available to tackle a job of this magnitude. Having to rent or purchase the proper tools that you need will cost you a significant amount of money. Every time you have to return to the home improvement store for another missing item or tool will be a waste your valuable time.
Even if you do manage to get your hands on the proper tools like a drum sander. The next challenge is to control the sander so it flows evenly over the surface of the wood. If the wood is not evenly sanded down, you may need to actually to replace the wood because of the damage that has been caused by the improper use of the sander. Now, you're going to have to call a professional to come in and repair the damage that you have caused.
You're also going to need a walk-behind sander that has a large rotating drum that evenly removes the protective finish from the wood, but again, the sander will only provide the effectiveness that the operator possesses. You're also going to require a handheld power edge sander to get into tight areas of the corners. Then, you'll need to decide on which grade of sandpaper will match the job.
It just makes good sense to allow the professionals at Paramount Flooring to come in and get the job done right the first time.
Refinish Hardwood Floors Kansas City MO
Paramount Flooring
8165642738
1608 Halls Creek Ave
Raymore
MO
64083
View Larger Map